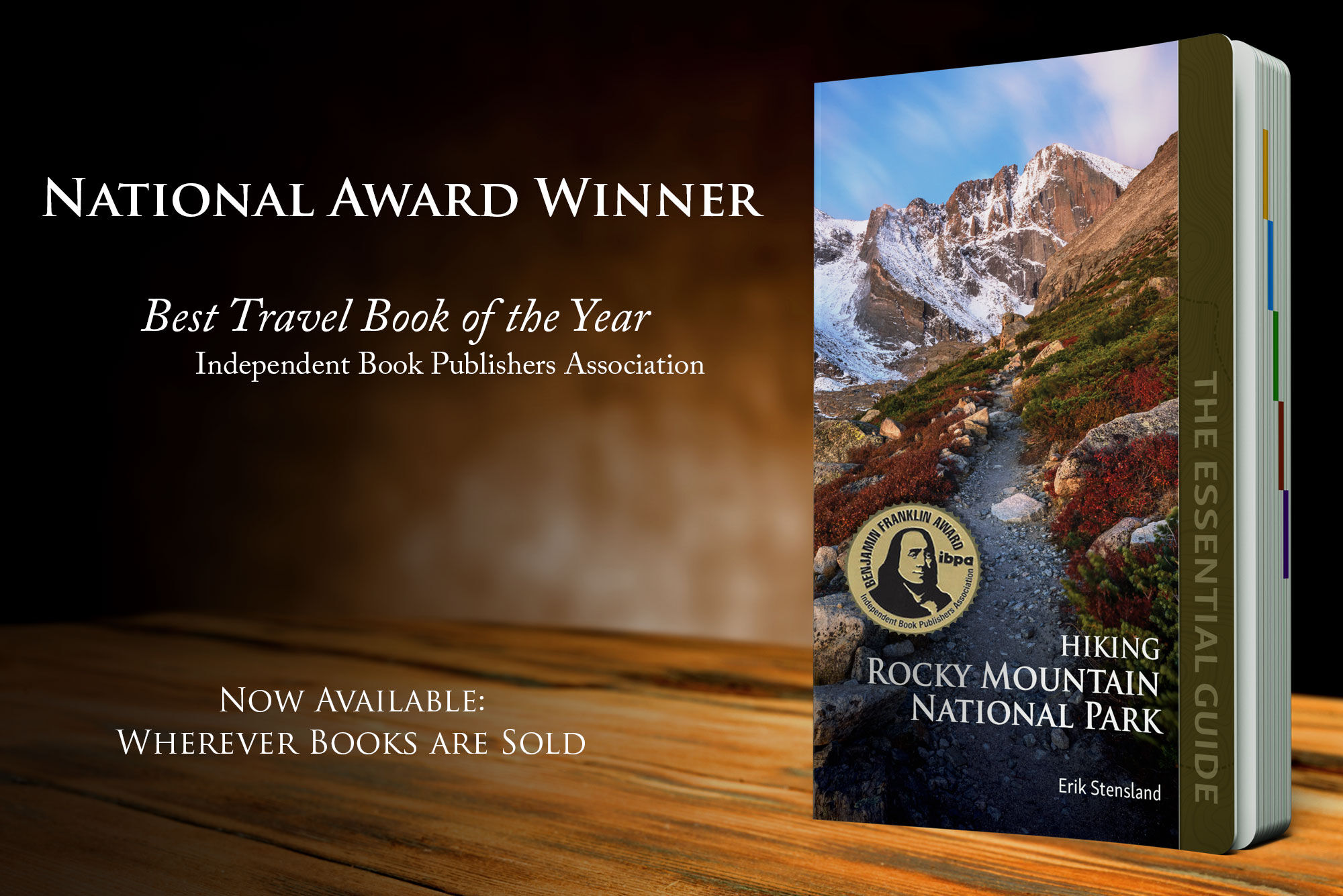 I am thrilled to announce that on Friday May 8th, Hiking Rocky Mountain National Park: The Essential Guide was awarded the Benjamin Franklin Award for best travel book of 2020. The Benjamin Franklin Awards recognize the very best in independent publishing in the United States and is run by the Independent Book Publishers Association. This is the most well-regarded and prestigious award for independent publishers in the nation.

This year there were 1,700 entries for the various categories. Every book is judged by a panel of independent specialists from across the country. This year there were 160 book publishing professionals including librarians, bookstore owners, reviewers, designers, publicity managers, and editors who judged the books. Every book is evaluated for both its editorial content and its design.
This year as well as winning gold in the travel category I also won silver in the sports & recreation category. I shared that second place together with Training for the Uphill Athlete by the incredible athlete Kilian Jornet which was published by the outdoor gear company Patagonia. Like every year, there were amazing authors and publishers that were involved and so it makes the awards that much more meaningful.
This was my third win at the Benjamin Franklin Awards and the second time in which I was also a finalist in another category. I've only published six books, so I'm very happy to have had half of them win the top awards in their category. The fact that the judges notice the attention to detail and quality of these books is very satisfying. In everything I do, I try to focus on creating products that are the very best in their class. To have professionals in this area recognize that effort feels very validating of the effort that goes into these books.
This book was by no means a solo effort. There were a number of people who put in a great deal of time and effort to make this book a success. Firstly, I have to mention my friend Jerry Dorris who does all of my graphic design work. He has this almost magical ability to take what I hand him and make it classy and attractive. So much of the design of this book, and all my books, is the result of his hard work and creativity. Secondly, is Janna Nyswander my long-time friend and editor. We went through junior high and high school together and then she went on to become a professional editor. She's edited all of my books and has this special ability to correct what I've written while still having it sound like my writing. I'd be lost without her help. Next I want to thank Shawn Wignall. Our families have been friends for years but it only occurred to me a couple years ago that he has the map making skills that I had been searching for. He did such a terrific job creating such beautiful and accurate maps for this book. Somehow he found the perfect way to balance providing all the vital information without overwhelming people and then putting it in a really attractive package. This book would be very different without all of those maps. There were also a number of others who gave me a lot of time and insight that I won't name here, but you know who you are.
I also had a great team of people online who helped me in preparing the content of the book. These were all avid hikers from various levels of fitness and experience. They were able to give me amazingly helpful insight into what would be most helpful for users of the book. I would have missed a number of things without their insight. Some of those who were part of this initiative were: Aaron Cooper, Aime Robicheaux, Anna, Marie, Anne Rusk,Ashli Adams, Brenda Toungate, Carol Murin, Gretchen Barclay, Jennifer Frank, John Bowen, John Hall, Anna Marie, Kelly Shaw, Kevin Fruechting, Mark Zemmin, Paige Fulton, Paul Beiser, and Scott Bacon. Thank you all!
I also can't thank my wife and son enough. They put up with me for two very stressful years as I worked on this book. They felt the stress like no one else and still somehow let me remain a member of the family. Joanna also has been the main person that I've bounced ideas off and is always the first person to go through my manuscripts, editing and improving them. I don't know what I would do without them.
Lastly, I want to thank all of you who have purchased my books and have been so supportive of my writing and publishing. Thank you to all of you!!