Introducing an award winning hardcover coffee table book on Rocky Mountain National Park by photographer Erik Stensland. This book comes out of a decade of exploring and photographing this unique wilderness. The result is a work of stunning beauty that will capture your heart and make you feel at one with the mountains.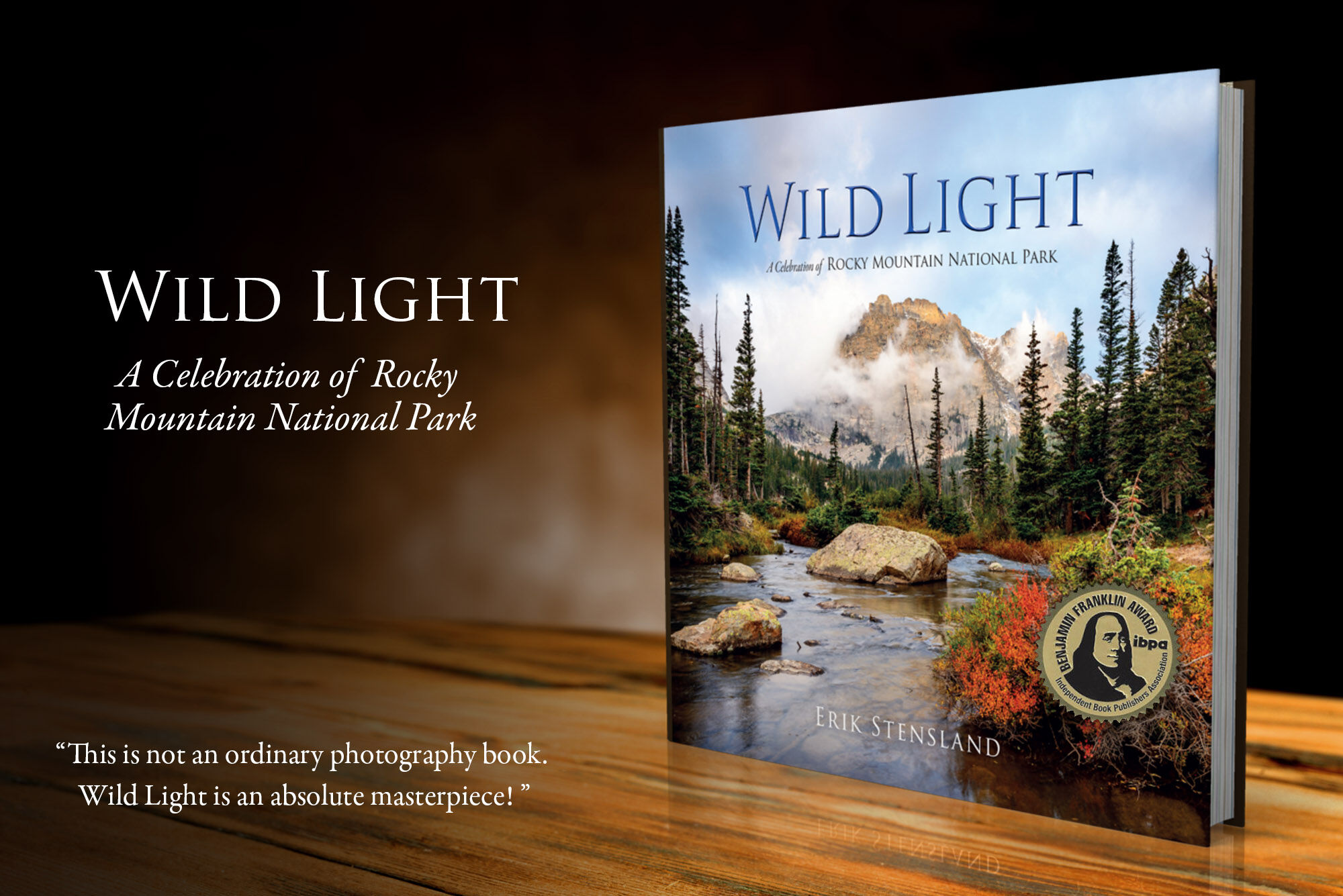 Wild Light celebrates the magnificence of Rocky Mountain National Park through an unparalleled collection of photographs. Erik's images are characterized by the vibrant hues and textures found during early morning and evening light. They are filled with lofty, untamed mountains, color-drenched wildflower meadows, crashing streams and glassy alpine lakes. These spectacular images reflect Erik's abiding passion for the park and deep understanding of the ebb and flow of the seasons and of the flora and fauna of this rugged yet beautiful landscape.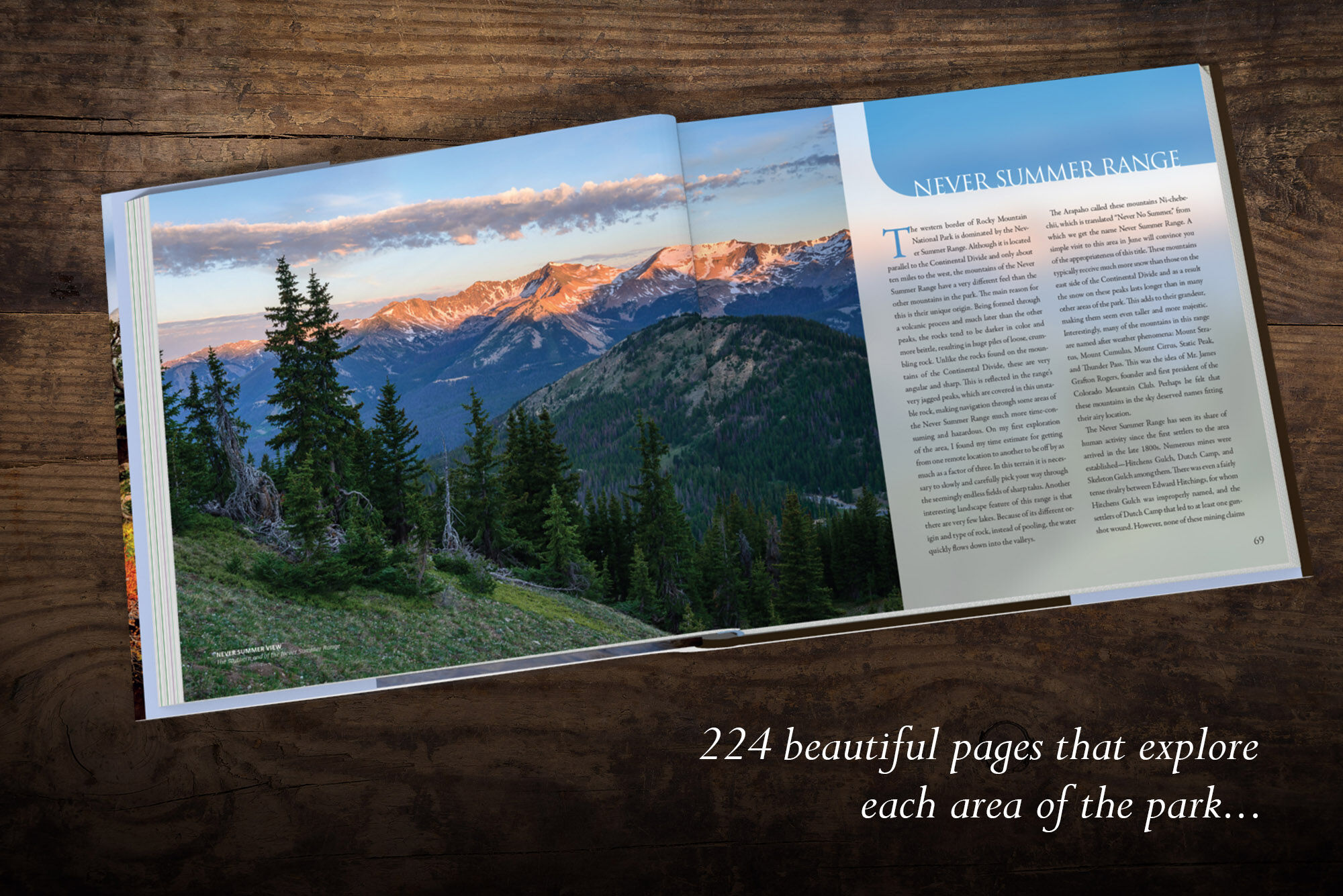 Wild Light's breathtaking photography is accompanied by Erik's often thought-provoking and lyrical observations. In the great tradition of naturalist John Muir, Erik highlights the paradox of wilderness and its ability to invite us deeper into what makes us human. A perfect stand of fall aspen or the unblinking eyes of a mule deer call forth both awe and reflection.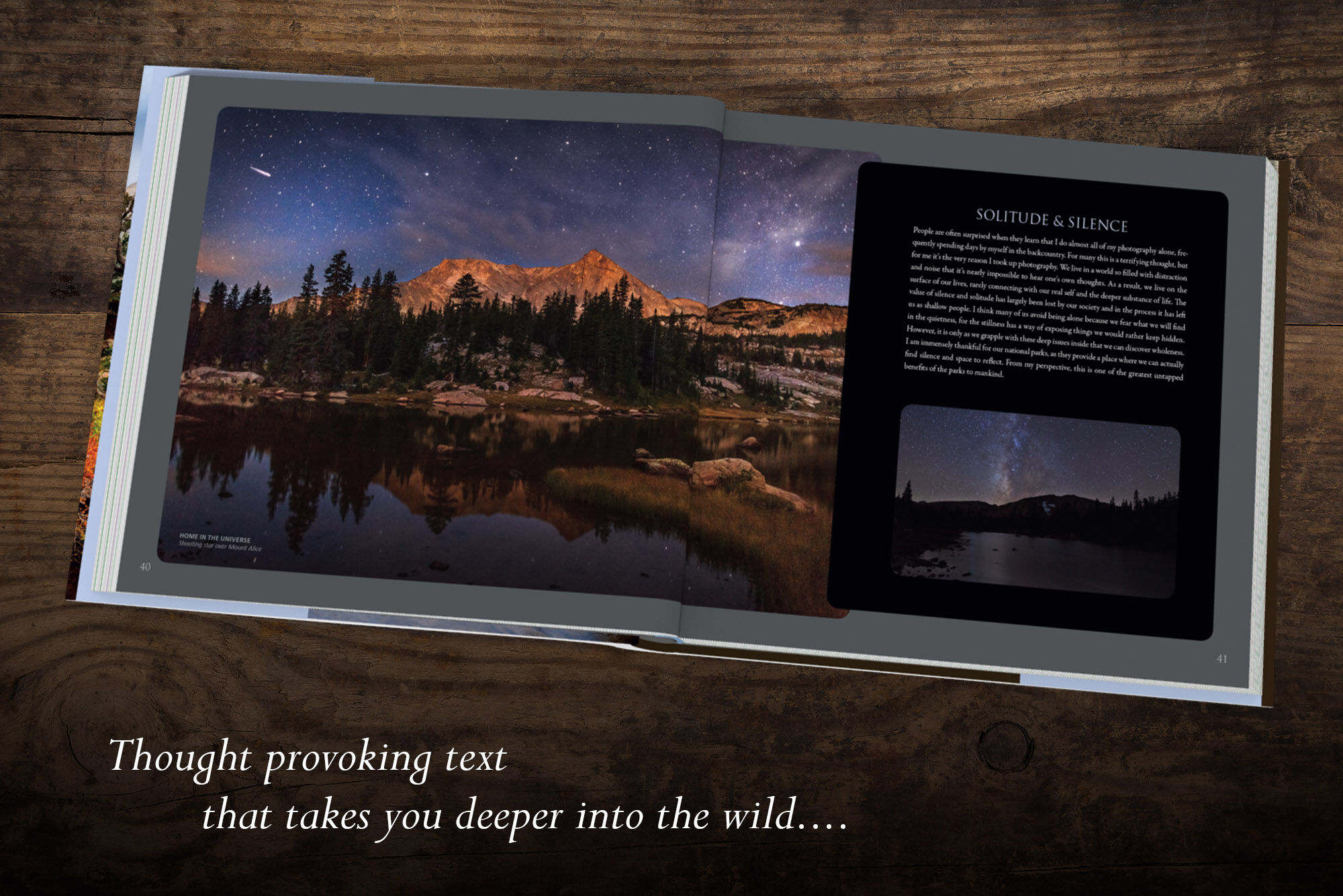 With a comprehensive overview of regions, seasons, ecosystems and wildlife, Wild Light offers a greater understanding of this national treasure. Rich historical details of the park and its continued evolution are especially intriguing as Rocky Mountain National Park approaches its 100th year anniversary celebration.
One of the myriad emotions that Wild Light evokes is a deep thankfulness that the stunning landscapes and wild ecosystems of this century-old park were preserved for many generations to enjoy. Its images will imprint themselves on the mind of all readers and reawaken a love for this wonder in the wild.
This is a fine art hard cover coffee table book featuring over 180 of Erik Stensland's best photos of Rocky Mountain National Park. It is a 11"x12" book with 224 pages printed in the highest quality. ISBN: 978-0-9858604-5-5
Award Winning
Wild Light has received acclaim from many different places. In April of 2015, at a ceremony in Austin, Texas, Wild Light received the gold prize Benjamin Franklin Award for best book in the Nature and Environment category and a silver prize in the Coffee Table Book category. There were 1,400 books in competition this year. These awards were given by the Independent Book Publishers Association, a national organization representing independent publishers across the United States. Wild Light was also a finalist at the Colorado Book Awards. Each book comes with a gold foil label on the front cover showing the Benjamin Franklin Gold Award.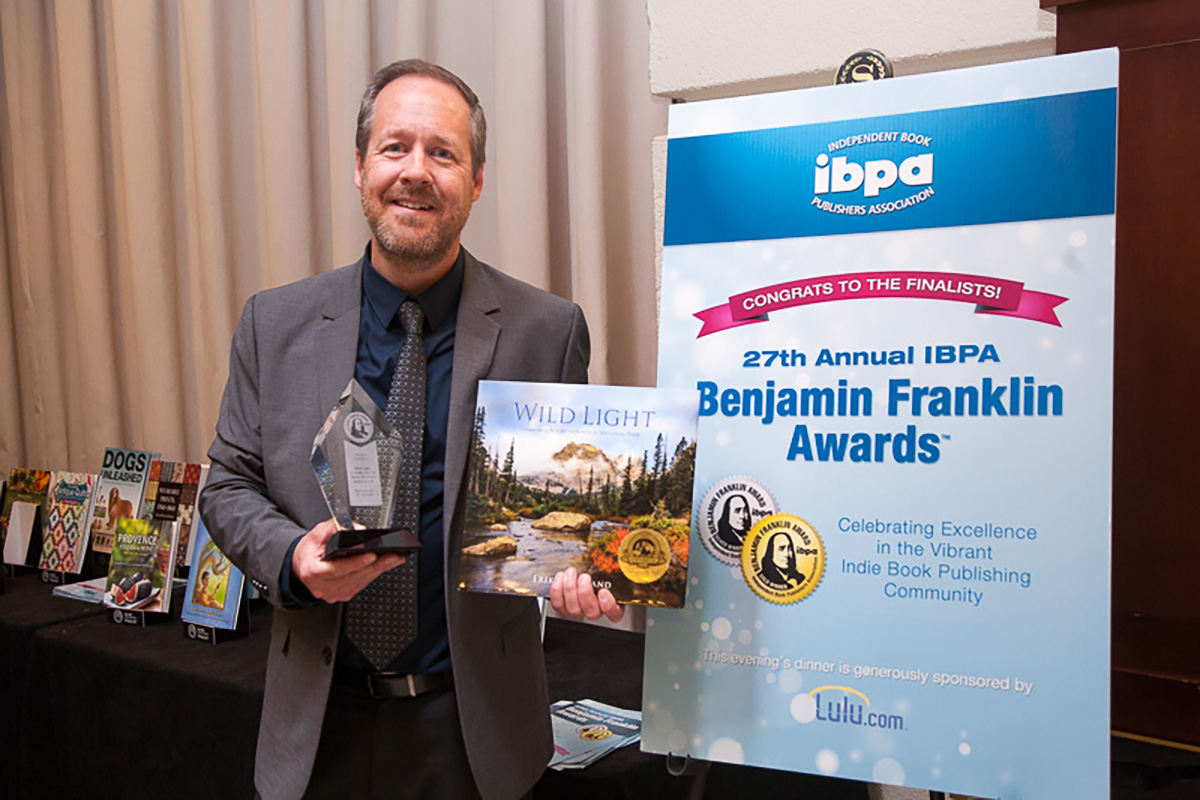 Photo by Sandy Powers
Environmentally Friendly

We have taken extra steps to ensure that this book is as environmentally friendly as we could afford to make it in terms of both paper and inks. As a result it has been officially certified by the Forest Stewardship Council. To obtain this certification involves following the tree from a renewable forest to the paper mill, then to the print shop and into the book using a certified chain of custody.
Comments on the book
Just received your book in the mail today. I don't even know where to start!! It brought tears to my eyes! I didn't think there was any way to make RMNP look more beautiful. But you have done that. This is a gorgeous book! I love how you have put it together. You will not have to do any promoting on this book. The book speaks for itself. It is a must have for anyone that has spent any time in RMNP. - Sherry Salvador
Look at this, it'll freak you out! It's ridiculously good! - Brian Zahnd
First and foremost, I have tears after just a quick review. The images are so full of heart. Not just cold lifeless visuals I see from so many photogs these days. We've never met in person so I feel very comfortable saying that this is the best RMNP collection I have ever l seen. - Jerry Greer
We just received our book in the mail and words cannot describe the beauty that you have captured! It's amazing to see many parts of the park that we have never explored ourselves.The majesty of the mountains that you are able to capture cannot be put into words. We are beyond blessed to own a copy of this book and look forward to having it grace our living room for years to come. - Kristin and Josh
Oh Erik, I actually had tears in my eyes as I looked through your book. I have been so anxious to receive it, but I did not realize what a goldmine it would be. What a comprehensive publication. - Becky
Wild Light" is a fitting tribute to the wilderness of Rocky, and in my opinion, is the only book in existence that accurately captures the spirit of the park that we all know and love. The book is gorgeous! - NPS Park Ranger
I was blown away by the quality and professionalism. - Bret Larson
This is by far the most stunningly beautiful book I have worked on and it has nothing to do with my design. Such a privilege to work with such amazing photography. - Jerry Dorris
It is so beautifully put together. Your passion for the park shines off every page! This is not an ordinary photography book. Wild Light is an absolute masterpiece! - Heidi Conrad
As I opened my book today for the first time, and started looking at the pictures, I had to be careful not to get tears on any of the pages. Just looking at the pictures of the place I love so much, brought tears to my eyes. It is hard to explain the emotion and awe that I feel. This book will be well-loved and cherished! - Val Hutton
Best book on RMNP! Incredible! You will be overwhelmed! - Rhonda Mullins
I just received my copy of Erik Stensland's new book, "Wild Light" and could list a page of superlatives: super, great, outstanding, excellent, artistic, comprehensive, exploratory, introspective, masterful, and much more. I've already read it cover to cover and now will go back to really immerse myself in his images. Everything about this book says "quality" from the protective packaging to the high quality paper used, the layout, binding and dust jacket. I think this is the definitive photographic work on Rocky - much better than anything anyone else has ever done. - Doug Beezley
Best money I have spent in a long time - Kevin Adkins
The Wild Light book is the most comprehensive photography of RMNP that has ever been done. The imagery and detail captured in each picture is outstanding. - Joan Robertson
I pre-ordered and received my book, and I'm at a loss for words at how beautifully done it is. The pictures are stunning but your words are equally beautiful and add so much emotion to the pages. - Julie Coulter
Your book has found me emotional! I couldn't imagine how it could exceed my expectations, but it really has. - Sandy Powers
I've never gotten chills from looking at pictures in a book before. - Vickie Wright
I truly believe "Wild Light" is one of the best books I have ever purchased! - David Greene

Notes
The shipping cost on this book is $12. This just covers the cost of packing and shipping as the book weighs nearly 4lbs!
Wild Light is now distributed by Publishers Group West, a division of Ingram Books. Because of this partnership it can now be found wherever books are sold. You can help us by asking your local bookstore to order it.