I was asked by one of my staff members, who helps run one of our social networking sites, to write up a little description of one of my days. The challenge is that they vary so greatly that none are quite the same. However the person who requested that I write about a day asked me to do today, so I'll do my best to give you a glimpse into this day of my life.
Today, actually needs to begin last night to give the best picture. Knowing it would be an early start I was in bed by about 8pm. I lay there with the hope of eventually falling asleep until it was time to get up. At 1:40am before my alarm goes off, I quietly crawled out of bed. I checked the weather forecasts and saw that they were divided, as usual, but with the greatest likelihood of a cloudy start to the morning. Since this morning's location has been plagued by clear skies during my previous visits over the last 12 years I figured that clouds might be a good thing even if I didn't get the light that I hoped for. A bowl of oatmeal I placed on the counter the night before sat on the counter waiting for me to add milk and to microwave. Nearby a small pile of hiking clothes lay waiting as well. At 1:55am I put my hiking boots on and walked out the door. My camera bag was already waiting in the car packed and ready for the day's adventure. I drove down our neighborhood road quietly with the lights off until I reached an open area where I could turn on the lights.
At 2:10 I reached the Lawn Lake trailhead. Not surprisingly there were plenty of parking spaces. I put on my sweat band, my headlamp, grabbed my hiking poles, threw on my 28lb backpack and hit the trail. The temperatures were perfect, somewhere in the mid-50s. At 2:15 as I made my first dozen steps I began to search for the right speed where I was hiking as fast as I could but not so fast that I couldn't breathe easily. Within 1/4 mile I had found that sweet spot that I knew I would be able to maintain.
As you hike up a trail in the dark all you can see is the small 10' or so area lit up by one's head lamp. There are few if any sounds to be heard as nearly all creatures are still asleep. One aspect of it that few people realize is that the first person up a trail in the morning gets a constant face full of spider fresh spider webs. About a mile and a half up the trail I briefly stop as I'm starting to drip with sweat. It's time to take off my fleece and hike in just my t-shirt. I also quickly check my distance and time to get a sense of my pace. Things are going well and I'm nearly on pace.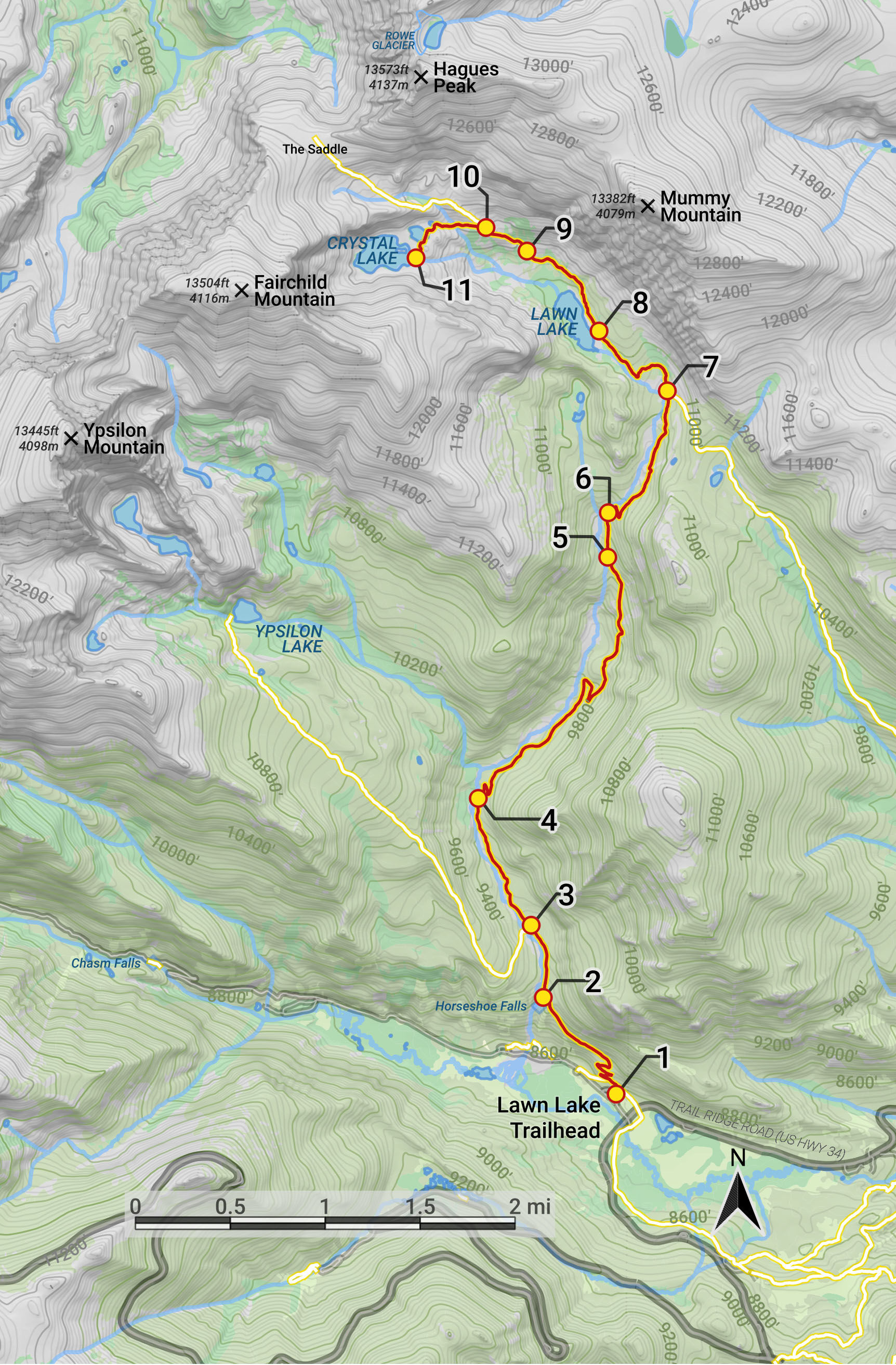 The trail is generally smooth and climbs gently as I make my way towards Lawn Lake. A couple of times I stop to read some of my hiking book so that I can see if there are any corrections to it that I need to make. along the way I mentally record a few different things I might want to change before the next printing. At about mile 5 I do start to tire. The lack of sleep is catching up with me a little bit, but I push through. Just before the two hour mark (4:14am) I reach Lawn Lake and am surprised to see so many stars above. So much for the cloudy morning. I stop here to have a drink and eat a fig bar. It's much cooler up here and so I throw my fleece back on. In a minute I realize I'm still cold so I put my down jacket on. I'm still feeling cold so it's time to put my gloves, winter hat on my head and continue hiking to keep warm.
Though this next section is relatively short I knew that I would be facing mud, snow, thick willows that cover the entire trail, deep pools of water and possibly even moose, so I wanted to have some extra time to do this section. I planned to take it slowly. It turned out to be very similar to what I expected with many wet snowfields and some areas of trail that had become rapidly running streams. I forced myself to stay on trail and accept the fate of soaking boots. Fortunately, I didn't encounter any moose. As I made my way upward the sky lightened and a few clouds reappeared above. That was hopeful.
I arrived at the first of Crystal Lakes just a little after 5am. Finally I could drop my pack and have another drink. With this extra time I planned to scout out possible photo locations as there are so many in this area. I found three possibly compositions and then clouds to the south and to the north began to glow. It was time to get to work. I made use of some of the small tarns to catch reflections as the wind was blowing quite strongly making it nearly impossible to get reflections on the larger lakes. At 5:40 the first light hit the peak of Fairchild Mountain. This is what I had been waiting for and then almost immediately the light vanished. Somewhere a cloud had blocked the warm light of the rising sun. I had told myself on the way up that I would accept and welcome whatever conditions I encountered, so I sat down and tried to enjoy the view. A few minutes later the light on the peak returned but now it was a brilliant orange. I was back at work. Until just after 7am I was shooting all sorts of scenes large and small around these lakes until finally I realized that the light was too harsh to continue. It was time to pack up and head back down.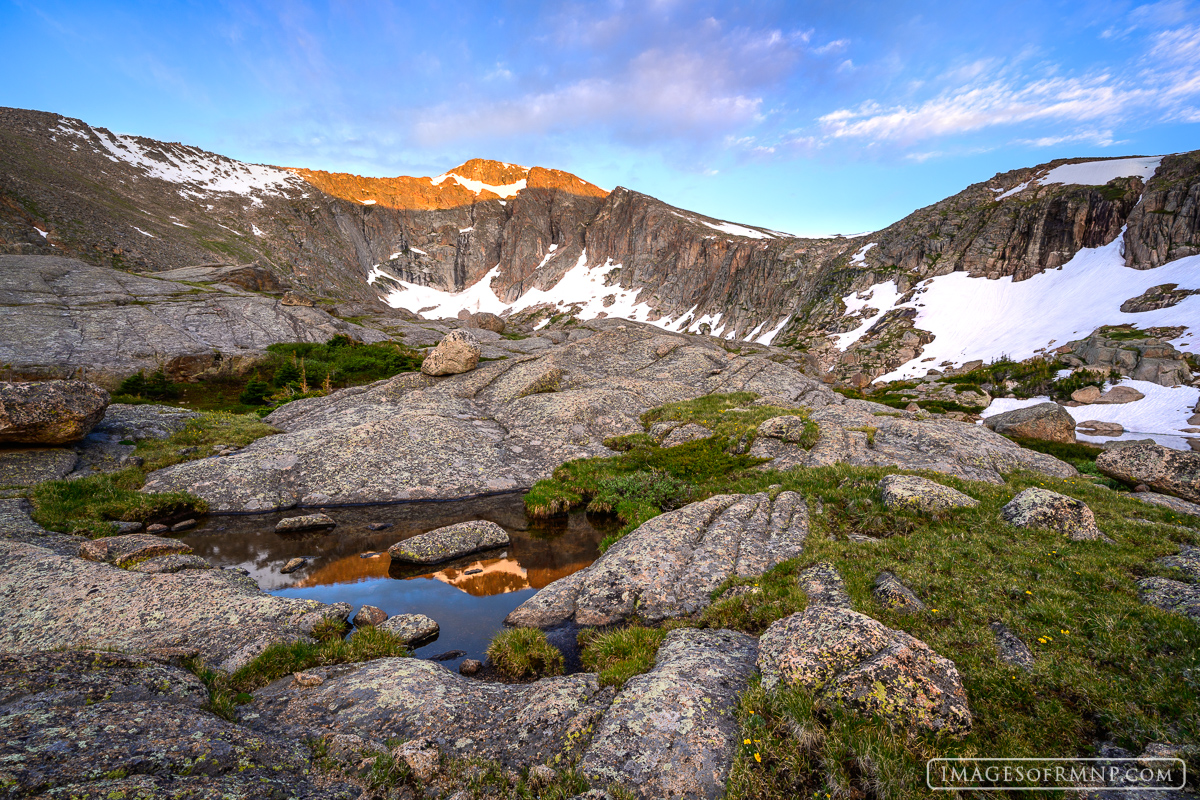 On my way down I watched a pair of mule deer making their way across the snow and then at Lawn Lake I sat and had a little breakfast of fig bar and nut bar while watching the newly sprouted fields of alpine sunflowers, which I briefly shot. Then it was an hour and 40 minute hike back down to the car. These downward hikes always give me some time to think, pray and reflect on life. I lost my mother on this day 5 years ago and so I so I thought quite a bit about that as I made my way down the trail. I arrived back at 9:40am and made the quick drive home. Once home, I took off my soaking wet boots, had yet another breakfast, spent some time with my family, took a quick shower and then lay down for a nap. I tried to sleep for an hour and a half and then gave up. Sleep was not on the menu for this day.
Around 12:30 I went to my office and began processing this morning's photos and responding to emails. I spent 2.5 hours in the office and then drove down to the gallery to pick up some items I need to deliver to Grand Lake tomorrow. They also had a stack of books that they needed me to sign. Then it was time to visit the bank to handle some mortgage issues for our new house.
At about 4:30 I returned home and after grabbing a snack in the kitchen it was time to get back to the office. I spent time re-looking at this morning's catch and then began to put this little day in the life text together. Next I'll get back to the never ending list of emails and then at 6pm I'll run down and pick up my son from his summer job. We'll then have dinner together, relax for a little while and by 8pm I'll be back in bed hoping that this time sleep will be waiting for me.
This was July 8th, 2019.